The ball mill is the key equipment for the material to be crushed and then crushed. It is suitable for cement, silicate products, new building materials, refractory materials, fertilizers, non-ferrous metal ore dressing and glass ceramics. It can be used for various ores and other grinds. The material is dry or wet ground. When a ball mill is in operation, its efficiency generally depends on the sum of the work done by each ball (the number of impacts and the impact force). Therefore, the reasonable choice of steel balls is a very necessary thing.
The ball loading is too much, the steel balls are pressed against each other, and the breaking ability of each steel ball cannot be fully exerted. At the same time, the kinetic energy is increased; too little, although the breaking ability of each steel ball is fully exerted, The ability to break is still limited; therefore, the appropriate amount of ball must be selected.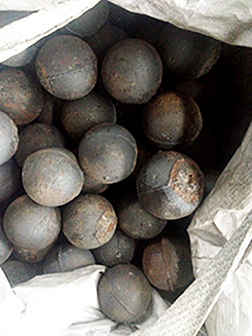 When the rotation speed of the ball mill is fixed and the ball loading is 30%, the movement of the ball is mainly sliding, but the pouring has begun to appear; when the ball loading exceeds 40%, the movement of the ball is inclined. The form is dominant; when the ball loading reaches 50% of the total capacity of the cylinder, since the surface of the ball group is on the diameter line of the cylinder, it is easy to cause the pouring. Tilting is required for ball mill production, so ball loading is between one-third and one-half, and is ideally close to one-half.
According to the actual results of the laboratory, when the filling amount of the steel ball in the cylinder is 40%, the output is the highest, and the filling rate of the general steel ball in production is about 35%, that is, the volume of the ball is kept lower than the horizontal center line.